Presenting the layout and tools of the Review Grid data visualization.
---
The Grid view represents the screen that appeared after opening an existing project from the Project list in earlier releases of Reveal, as populated here with all documents in the project to start. This table may be used to select, sort and perform batch operations from the current list of documents within a project, and will reflect searches selections and filters applied in the other data visualizations.
In addition to the Search, Folder and Filter functions and View Selection available from the Dashboard, the Grid features the Bulk Action Toolbar at the top of the table and Document Navigation Tools at the bottom to navigate sets of displayed documents and control how many documents to display per page.
Individual row records may be selected for some further action in the Bulk Action Toolbar (as discussed in Item 11 below). An indicator in the lower right corner displays how many documents are currently selected across all pages of the Grid document list.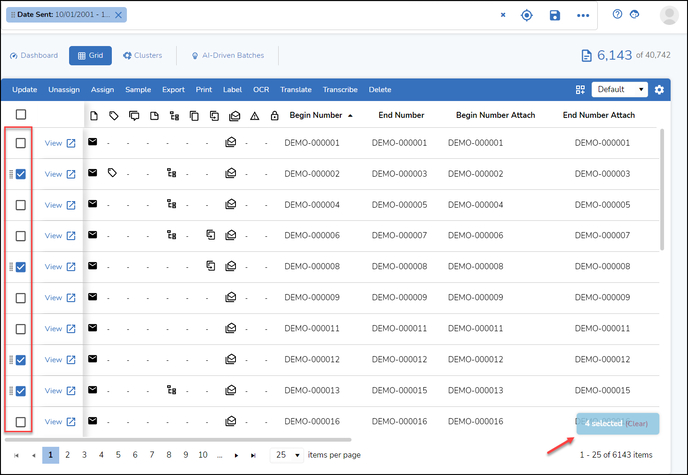 Here is an overview of the elements found in the Grid screen: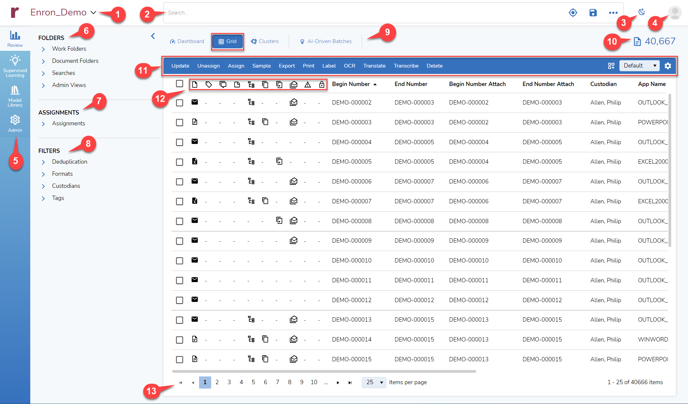 Project selector

.

Search Bar - includes direct keyword or concept entry (selectable for each term entered), and


Search History button
Save Search button
Advanced Search open to edit or add to searches or enter Term Lists.

Dark Mode / Light Mode toggle.
User Profile menu with Logout.
Screen selection buttons to access screens permitted for the User's role:

Review (shown above) for data visualization, selection, coding and update.
Supervised Learning for adding, reviewing and editing classifier models.
Model Library for examining available pre-built AI Models to incorporate into the current project.
Admin to manage the project and select other screens, such as Reporting Management, Jobs Management, Data Processing Console and Company Admin.

Folders - organized groupings of data, including:


Work Folders - User-created collections of documents from search or filter or other specification. Work folders are where production documents are collected for production processing. Work folders may be shared by user in read-only or read/write mode.
Document Folders - Subfolders display every dataset added to the project.
Searches - Subfolders contain personal saved searches and others shared with permission-based access.
Admin Views - Provides Project Managers with view and management access for these folder classifications (and others, such as Transcripts, as may be added to the project):


Assignments
Documents
Imports
Searches
Work Folders

Assignments - Assignment folders that are pushed out will appear under here, as will assignments checked out using Manage Assignments under the Options [...] button at right.
Filters - Some items from the Dashboard and Add Conditions under Advanced Search are available here to quickly parse datasets by a variety of characteristics.

Annotations - Quickly examine a list of documents based upon reviewer notes and markups of document images.

Has Annotations - Includes any image annotation format listed below.
Has Free Hand - Document images have hand-drawn annotations.
Has Highlights - Document images include reviewer highlighted portions.
Has Notes - Reviewer notes have been added to the document.
Has Redactions - Reviewers have redacted material in the document.
Has Sticky Notes - Reviewers have added sticky notes to document images.
Has Text Annotations - Text boxes have been added to document images.

Document Status - Selects on some Fixed Field (see below) and other metadata attributes of documents.


Has Alerts
Has Children
Has Custodians
Has Email Threads
Has Extension
Has Family Members
Has Locks
Has Parent
Has Tags

Deduplication - As with the Dashboard's Candy Bar, offers to filter by Exact Duplicates or Near Duplicates.
Formats - This subfolder lists the top five Document Types (by extension) in the currently viewed document set, with the ability to ...Show more... in a checkbox modal of all available values for filtering.
People - This subfolder lists the top five people (as with Custodians) in the currently viewed document set, with the ability to ...Show more... in a checkbox modal of all available values for filtering.
Review Status - Shows branches for each of the user's tag profiles, and break out documents under each profile as Reviewed or Not Reviewed based upon the settings for each tag profile.
Tags - Shows all tags in the user's currently selected tag profile for filtering selection.
Privileged Tags - Provides immediate listing of all documents coded with tags in the current tag profile flagged as Privileged.

Data Visualization selection buttons, including Dashboard, Grid, Clusters and AI-Driven Batches.
Document Count in the current view.
Bulk Action Toolbar - the following tools are available, some based upon a user's role permissions. For more information, see Other Bulk Actions.


Update allows you to apply an action to all documents in the results list, for example, tagging or untagging a selected tag, adding to or removing from a Work Folder or Transcript Folder, adding a Note, or filtering for a Field property and action.

Assign is where a Client Administrator can put all part of the current Document list into a specific review assignment or assignment pool. Unassign facilitates revocation of review assignments.

Sample enables a Client Administrator to generate a random sample of documents for foldering or assignment.

Export enables the reviewer to export the current document table of metadata in Excel or text format, with or without native files.

Print outputs single document or multi-document PDFs with or without slip sheets containing selected metadata and with or without bates stamping.

Label creates or overwrites existing Image Label field content in the current document list.

OCR will run optical character recognition for the current list into a new or existing OCR text set, optionally generating missing images and overwriting existing text.

Translate renders a translation from a selected language and text set to a selected language and text set for the current document list.

Transcribe extracts text in one of a couple of dozen languages and dialects from audio or video files for search; clicking on transcribed text during playback moves to that part of audio or video.

Delete enables a Client Administrator to remove all or selected artifacts from a list of documents; this is only visible if you are a permitted user.

Manage Your Grid View enables you to modify the order and visibility of Customizable metadata fields and the visibility of Fixed calculated fields indicating document status at a glance.

Field Profile selects a list of fields and related settings for the current view from the menu at the far right of this toolbar.

Manage Field Profile for the selected profile, adding, removing or reordering fields or their visibility, and modifying the default sort order of documents in the grid.

Fixed (Calculated) Fields - formerly referred to as "Review Icons", the icons listed in these columns (displayed as selected in Manage Your Grid View) show aspects of a document at a glance:

File Extension
Has Tags
Has Annotations
Has Notes
Has Family Members
Has Duplicates
Has Near Duplicates
Has Email Threads
Has Alerts
Has Locks

Document Navigation Tools - Buttons to go to the First, Previous, Next or Last page of documents, or directly to a page in the current displayed group of 10 pages. The size of a "page" may be set upward from the default of 25 to as many as 500 items per page; bear in mind that pages with larger numbers of items will take longer to load depending upon network connectivity. There is at the right a summary of what range of documents is displayed in the current page of the total number in the currently retrieved set.
Also note that the "Customizable" metadata fields in the Grid can be filtered by a control in the column heading.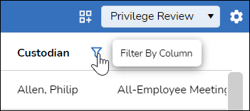 Hovering the pointer over the Custodian field heading in the above example reveals a funnel icon and the tooltip Filter By Column. Click on this to open the column's Filter settings.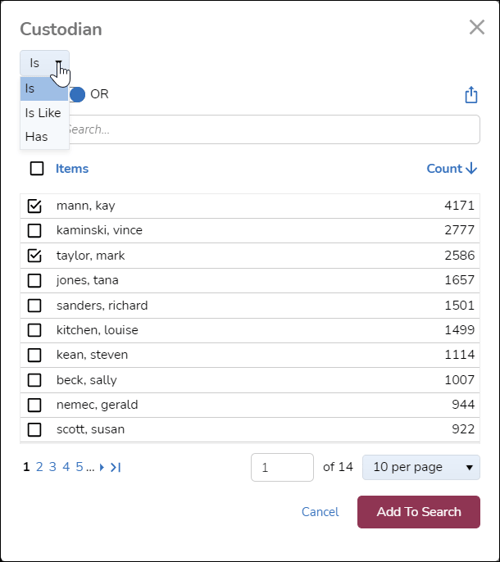 Select the comparison operator from Is, Is Like or Has.
Select the connector to use for your selections, AND or OR.
Select the items to filter by from the list; you may also search for a field value, or click the checkbox next to Items to select all.
Click Add To Search when done.
Delete the resulting pill from the Search box to clear the filter.
Last Updated 11/22/2022