New to Reveal 11? This article provides a high level overview of platform from logging in for the first time to using the key features.
Table of Contents
Log in to Reveal
Setting Up Two-Factor Authentication – Mobile Devices
The Reveal platform includes two-factor authentication which is added layer of security that goes beyond the standard login credentials for the platform. To setup your two-factor authentication, follow these steps.
Download the Google Authenticator app to your mobile phone. On Android devices, this will be found on Google Play, and on the Apple Store for Apple devices.
Once installed, launch the application.
Press the Add button "+" in the lower right-hand corner of Google Authenticator.

Click on Scan QR Code.

There is a QR Code provided on the Reveal login screen. Hold your phone's camera up to the code to scan it.
Once scanned, a Reveal labeled six-digit code will appear within Google Authenticator. This code will change every 30 seconds.

Navigate to the Reveal login screen and enter your login credentials (username and password).

When prompted, enter the six-digit code displayed within Google Authenticator.
Enter a name for the device that has Google Authenticator. For example, you can enter "iPhone" or "android" depending upon your mobile device.
Click Submit to complete the setup of the Two-Factor Authentication.
Going forward, each time you login to Reveal, you will be required to enter the six-digit code provided by Google Authenticator.

Open Existing Project
Follow these steps to open an existing project within Reveal.
Definition: Project – a project is generally equivalent to a specific legal matter or case. Projects contain a set of documents to be analyzed and reviewed. More complex matters can have more than one project.
After logging in to Reveal, the Projects Hub window will appear if you have access to more than one project. If you have access to only one project, Reveal will open it automatically.

If you are an administrator, you will see further choices available for your listed projects.

If you have access to multiple projects, select the appropriate project from the available list.
Interface Layout
There are several screens within Reveal's intuitive user interface that are essential for document review. Here's an overview of each screen including their function and key features.
Dashboard Screen
The Dashboard is the control center of Reveal 11; project data, visualizations, filters, search, and analytical tools are all available on this screen. Users can organize, select, search, and manage documents here. The following diagram provides an overview of the screen layout along with a list of functions that can be performed. While this illustration is in Light Mode, users can switch between light mode and deep blue dark mode under User Settings > Display > Theme.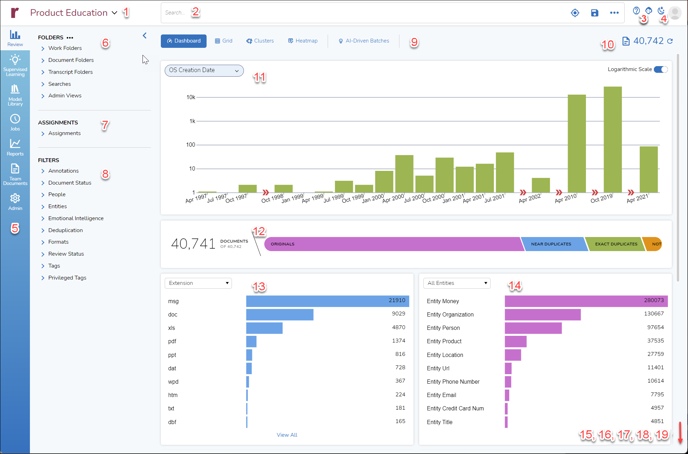 Home Button and Project Selection – Clicking the logo returns to the Project Selection Screen, or you can use the drop-down menu to search for and select a different project.
Search Box – Enter keyword or concept searches, build more complex searches with Advanced Search, review and re-apply Search History, or save the current search.
Help and Support Icons - look up a topic under this Knowledgebase or contact Reveal Support:
Dark/Light Mode Switch and User Menu – Toggle between Light Mode (shown above) and stylish Dark Mode. User Settings, About (Reveal version information) and Sign Out.
Navigation Panel – As permitted by your user account, select between:

Review - The current document review context;
Supervised Learning - Classifier configuration and training information;
Model Library - Prepared analytical models available to be copied into the current project;
Jobs - See and manage bulk tasks;
Reports - Configurable prepared reports on project data and reviewer work;
Team Documents - Library of reference documents for the project, which may include complaints, pleadings, requests, rulings, and coding manuals; and
Admin - Project administration and configuration.
Upload - to directly upload and index electronic documents to Reveal.

Folders Panel – Displays a set of default folder types. The Folders Option menu (in Dark Mode below) allows you to Select Folders and add them to a search, Refresh the list, or toggle to automatically Update Counts on Search (default is OFF to maximize performance).


Work folders - Are created and optionally shared by users to organize documents within the project. Work folders may be shared with selected Teams or other users in either Read Only or Read/Write mode. Work folders are required in gathering documents into a set for production.
Document Folders - Each subfolder is a loaded dataset in the project and may be selected as a filter. Document folders are recursive when used in a search.
Transcript Folders - If any deposition or testimonial transcripts are added to the project for review, they will appear here.
Searches - Saved Search folders created by or otherwise shared with the current user.
Admin Views - Provide project manager administrators with the ability to view and manage folders and tags for all users.

Assignments - A separate section where foldered sets of documents pushed to the user for review are displayed, along with folders checked out by users under the folder's Manage Batches options [...] menu selection.
Filters Panel – Displays a set of selectable filters, while may include such elements as:

Annotations - Filter by whether documents have particular annotations (Free Hand, Highlights, Notes, Redactions, Sticky Notes, Text Annotations), or any annotations at all.
Document Status - Filter by many of the items reflected in the Grid's review icon fields:

Has Alerts,
Has Children,
Has Custodians,
Has Email Threads,
Has Extension,
Has Family Members,
Has Locks,
Has Parent,
Has Tags.

People – Persons sending, receiving or named in documents, related to the Dashboard's Custodians graph. Click More... to open a popup window containing a multi-selectable list of all values in the current result set.
Entities - Select by one or several nouns captured and characterized by Reveal analytics, including Credit Card Num, Email, Location, Money, Nationality, Organization, Person, Personal Id Num, Phone Number, Product, Religion, Title, URL.
Emotional Intelligences - Examine documents ranked by levels of Positivity or Negativity assessed in analysis of the text.
Deduplication – Exact or Near Duplicate, also controlled by the Dashboard's Candy Bar.
Formats – Types of documents, also controlled by the Dashboard's Document Type graph. Click More... to open a popup window containing a multi-selectable list of all values in the current result set.
Review Status - For each Tag Profile, filter on whether documents are Reviewed or Not Reviewed.
Tags – User-coded and AI-coded documents (e.g., for Responsiveness, Issues, Confidentiality).
Privileged Tags - Filter by user-coded privilege tag designations.

View Selection Bar – Select the preferred view of the project data (see details below):

Dashboard – The control center currently under discussion.
Grid – The table of currently-selected documents and their metadata.
Clusters – Brainspace concept visualization and tools.
Heatmap – Matrix comprised of selectable metadata or search values set in rows and columns with intersections colored to reflect the relative intensity of correspondence between the values. Cells may be selected and added to a search.
AI-Driven Batches – AI classification models applied to selection of batches to aid in supervised learning review.

Document Count – Number of documents selected in the current view, shown with Refresh button to update for underlying processes if no search or filter is currently in use.
Timeline - Presents graph of selected date or date/time metadata whose entries for Year may be clicked to expand to show Months, Months may be expanded to Days, Days may be expanded to Hours, and so on. Date Field selection is preserved for the User and Project from one session to the next. These data may be displayed in Linear or in Logarithmic scale to skip blank periods, as indicated by the right-facing double red chevrons (>>) in the illustration below.
Candy Bar – Graphic display of Originals, Near Duplicates, Exact Duplicates and documents Not Analyzed (because encrypted, lacking text or containing excessive text) in the current view. A user may select Originals to examine only that subset of documents.
Document Types – Graphic bar chart of the up to five most common document formats found in the current view, selectable for filtering.
Entities - Analytical rendering of defined "nouns" found in the current dataset, including Money, Organization, Product, Person, Location, URL, Phone Number, Email, Title, etc.
Custodians – [Not shown] Chart listing the top ten Custodians in the current view and the number of documents provided by each, selectable for filtering.The list of all additional custodians is paged here.
Documents By Predictive Scores – Chart of classifier tag relevance groupings following Supervised Learning, where tags are used to classify documents for AI model scoring and prediction of pertinence to the subject of the classifier as tagged. Scores are grouped in the key below the chart, from Unscored to Low (0-32), Medium (33-65) and High (66-100). NOTE that, as with other Dashboard widgets, hovering the pointer over a truncated label will provide bubble help with the entire label, and hovering the pointer over a bar section will display its value name and the number of documents represented.

Senders + Recipients – A graph added in Reveal 11.4 adds email correspondents, showing the top five graphically with the number of documents from each and received by each, with remaining email senders and recipients found in succeeding pages of the widget. The bars are selectable for search filtering, and the data represented here may be exported.

Domains - A graph added in Reveal 11.4 adds email domains, showing the top five graphically with the number of unique documents, and the number of documents sent from each and received by each, with remaining email domains found in succeeding pages of the widget. The bars are selectable for search filtering, and the data represented here may be exported.
Emotional Intelligence - Color-coded chart graphing selectable ranges of Negativity and Positivity predicted in the current data set.
As of Reveal 11.5, Users may specify the display and order of Dashboard widgets under User Settings.
Grid Screen
The Grid view represents the screen that appeared after opening an existing project from the Project list in earlier releases of Reveal. This table may be used to select, sort, and perform batch operations from the current list of documents within a project.
In addition to the Search, Folder, and Filter functions and View Selection available from the Dashboard, the Grid has the Bulk Action Toolbar at the top of the table and Document Navigation Tools to navigate sets of displayed documents and control how many documents to display per page.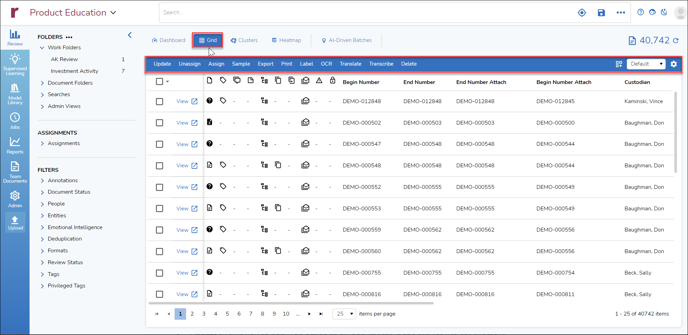 The Bulk Action Toolbar contains the following:
Update allows you to apply an action to all documents in the results list, for example, tagging or untagging a selected tag, adding to or removing from a Work Folder or Transcript Folder, adding a Note, or filtering for a Field property and action.
Assign is where a Client Administrator can put all part of the current Document list into a specific review assignment or assignment pool.
Unassign facilitates revocation of review assignments.
Sample assists a project manager administrator in creating a random sample of documents for review or batching.
Export enables the reviewer to export the current document table of metadata in Excel or text format, with or without native files.
Print outputs single document or multi-document PDFs with or without slip sheets containing selected metadata and with or without bates stamping.
Label creates or overwrites existing Image Label field content in the current document list.
OCR will run optical character recognition for the current list into a new or existing OCR text set, optionally generating missing images and overwriting existing text.
Translate renders a translation from a selected language and text set to a selected language and text set for the current document list.
Transcribe extracts text in one of a couple of dozen languages and dialects from audio or video files for search; clicking on transcribed text during playback moves to that part of audio or video.
Delete enables a Client Administrator to remove all or selected artifacts from a list of documents.
Manage Your Grid View enables you to modify the order and visibility of Customizable metadata fields and the visibility of Fixed calculated fields indicating document status at a glance.
Field Profile selects a list of fields and related settings for the current view from the menu at the far right of this toolbar.
Manage Field Profile for the selected profile enables adding, removing or reordering fields or their visibility, and modifying the default sort order of documents in the Grid.
As with all other screens in Reveal, the Grid may be viewed in Dark Mode.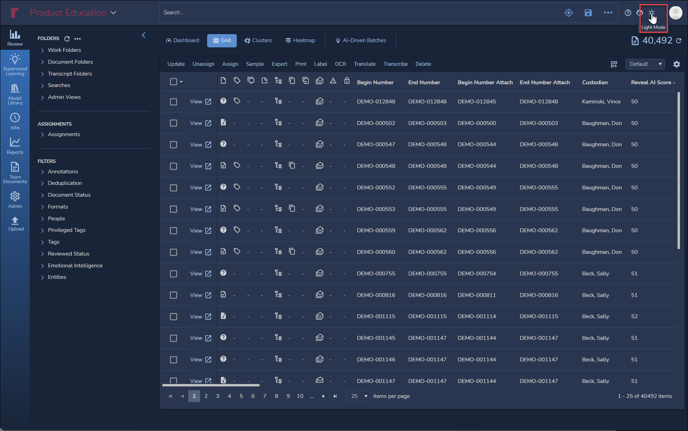 As of Reveal 11.4, the Grid may be toggled from a search Results List, share the screen with the Dashboard, Clusters, Heatmap or other data visualization, and be popped out to a separate browser window which may be moved to a different display while maintaining synchronization with current search, filter and update parameters.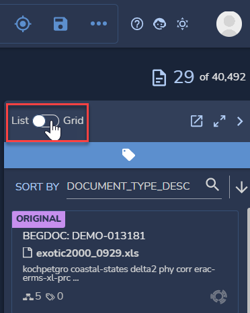 This will split the screen between the Dashboard or any other visualization and the Grid, listing responsive documents with metadata. The Grid window may even be launched into a separate window while remaining fully synchronized with all other elements of the Reveal Dashboard.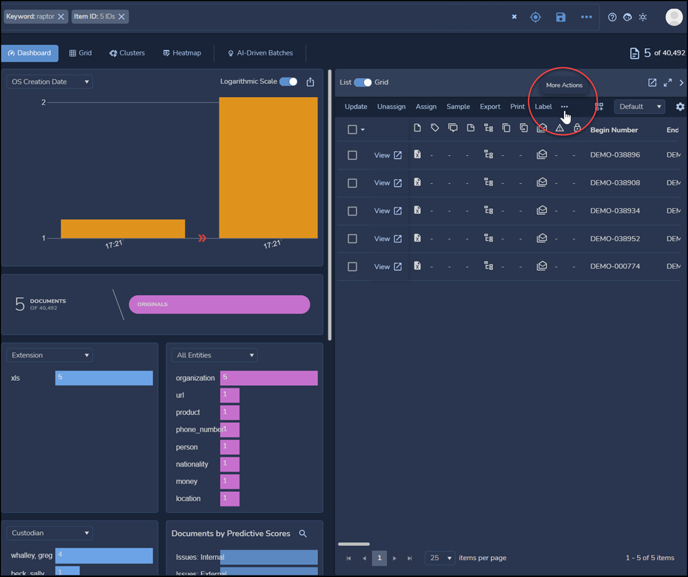 Clusters
Clusters is an interactive data visualization designed to organize and present large volumes of unstructured data for analysis. Documents or content records are grouped together based on their lexical similarity or vocabulary used within the record. Each document group or Cluster includes a set of themes which describe the overall subject matter of the document group. Clusters looks particularly good in Dark Mode.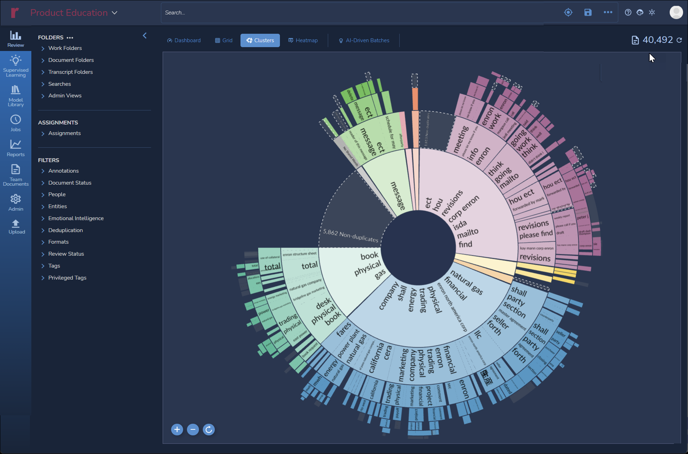 Selection of any cluster zooms in to expand the themes underneath. The example below has been selected and switched into Dark Mode for greater contrast.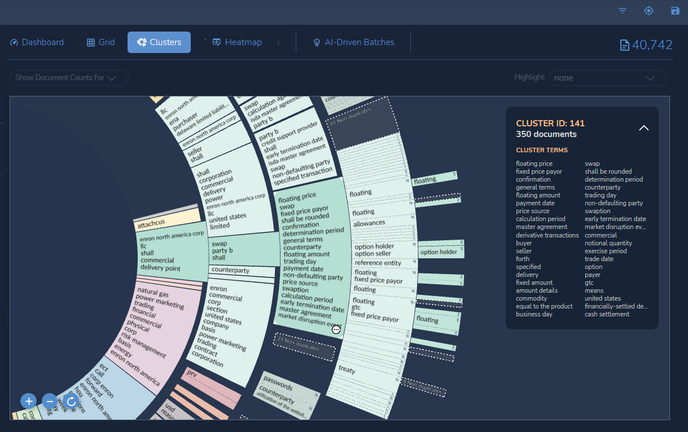 Document Review and Viewer
Document Review is the primary screen used to review individual documents; its main focus is the Viewer that displays a selectable version of the document: Native / HTML with search hits highlighted, Image for imaging-on-the-fly, redaction and other annotation, and Metadata. Users will review individual documents here and apply coding decisions using Tag Profiles. Document level actions are also available including the ability to print, delete, and email individual. A general diagram of the screen layout has been provided below, followed by a more detailed explanation of its features and tools.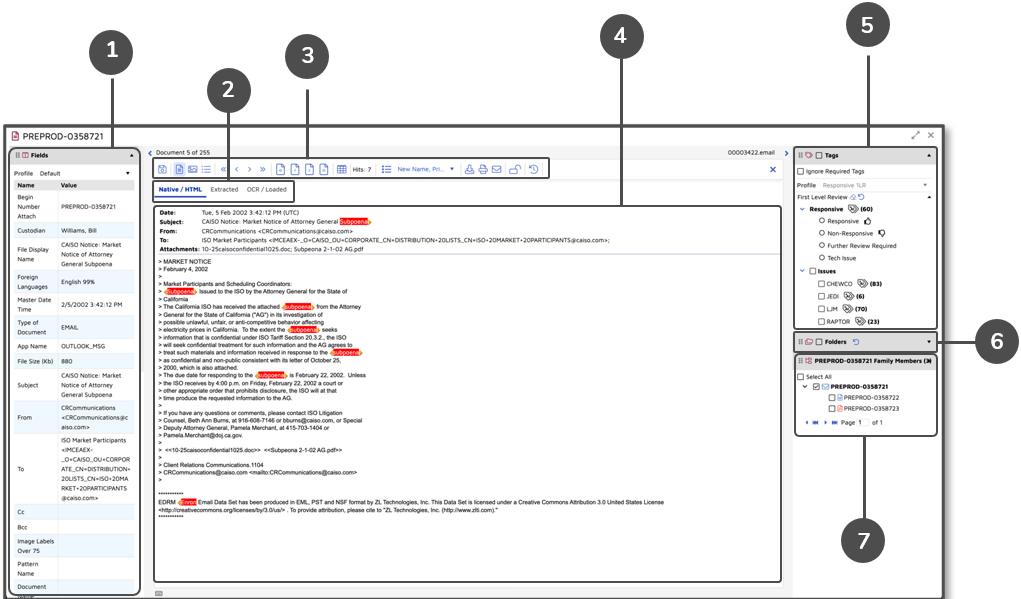 Field Panel – Displays all metadata fields for the selected Field Profile and document displayed.
Text View Options

- Select the document text set that you would like to be displayed in the Viewer.

Document Review Toolbar

- Contains a set of buttons that execute various commands on the document displayed.

Viewer

- The current document in the format selected within the View Options.

Coding Panel

- Displays the Tag Profile being used for review.

Folder Panel

- Displays which Work Folder and Transcript Folder the document currently resides in. Document can exist in more than one folder.

Doc Family Panel

- Displays the document family members for the document displayed.
Document Review - Features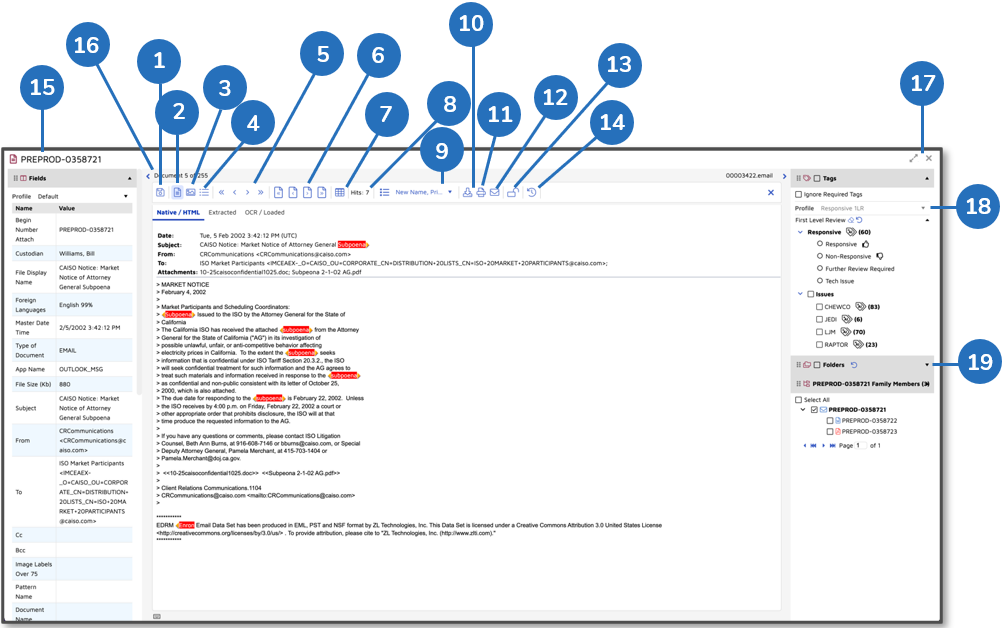 Document Save – Saves any coding, redaction, or annotation made to the document.
Native / HTML Display - Displays Native/ HTML with search and Wordlist hits.
Image Display - Displays image rendering of the document in TIFF or JPEG format.
Metadata Display - Displays a complete list of the document's metadata for the current field profile.
Doc Navigation - Navigate to First doc, Previous doc, Next doc, Last doc.
Search Hit Navigation - Search Hit navigation within the current document to First hit, Previous hit, Next hit, Last hit.
Search Hit Breakdown - Breakout of individual search or Wordlist hits.
Total Search Hits - Number of search hits found within the document displayed.
Wordlist Selector - Select specific Wordlist to see associated search hits.
Native Download - Download document in its native format.
Print Document - Prints document to network attached printer or as PDF.
Email Document - Email native document as an attachment.
Document Lock - Locks all work product (annotations, notes, tags, etc. for current document.
Document History - Displays the document history including all user actions.
Doc Identifier - Document Identifier (Begin Number).
Doc Pointer - Shows where the current document exists within the current document list.
Screen Toggle - Maximize Document Review window and close Document Review window.
Tag Profile Selector – Change the Tag Profile while reviewing documents.
Folder View – View the folders associated with the current document.
Project Administration
Users that are in a project management or administration role will have access to more advanced features including user permissions, field management, tag management, Wordlists, and other settings. The following section provides an overview of the key features associated with each of these administration functions.
Permissions
Users that are in a project management or administration role will have access to more advanced features including user permissions, field management, tag management:

Roles – This is where the user access is defined. A Role tells the system what features and functions a user will have access to. There are 5 standard roles pre-defined within Reveal. You can add additional Roles as needed.
Role Groups – used to organize individuals with the same Role into groups of similar users with similar permissions.
Teams – used to group individuals together that will be performing a specific task or tasks within the review workflow. An example would be to create a team that's going to responsible for the 1st Level Review, project management, or Privilege Review.
Field Management
Create Field Profiles that are used for document review. Each Field Profile includes a list of specific fields that will be viewable during document review and will be assigned to specific Teams. Reveal also provides a Default Field Profile for each new project. You can also modify which fields are included in the default profile.

Tag Management
Create Tags and Tag Profiles that are used code documents during review. Each project can have a set of custom review Tags. Once tags are created, they can be added to a Tag Profile (organized grouping of specific tags). The Tag Profiles will be visible within the Document Review Screen.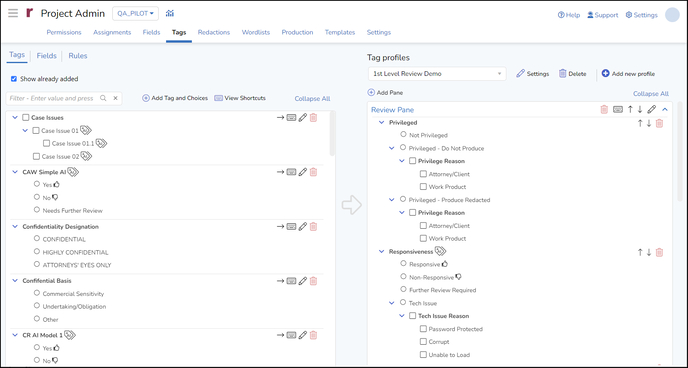 Wordlists
Users can upload lists of search terms for search term hit highlighting. These search term lists are referred to as Wordlists in Reveal. Wordlists can be created per review team. Users can also run a hit report on the list of terms and place the search results into a Work Folder, Saved Search, and/or a Field.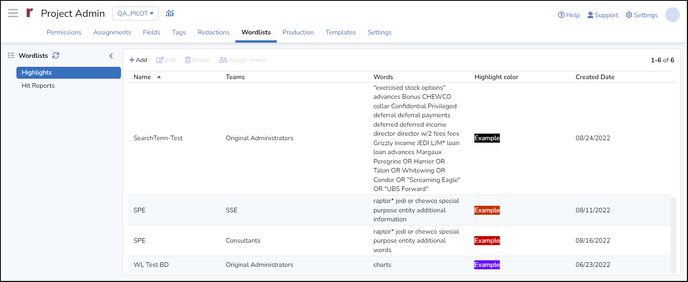 Settings
Settings provides users with the ability to customize the view options globally for all users within the project. This allows you to create a standard default view for all members of your review team. These view options can be customized at a user level. The view options include but are not limited to:
Dark Mode – turn on dark mode for all team members which creates a dark background with lighter colors in the foreground.
Alternating Row Color in Grid – change the Document List view within the Document Management screen to include alternating row colors.
Review Icons – customize which icons to display in the Document List. These icons, which can be used to sort documents, depict which documents have tags, duplicates, annotations, notes, etc.
Last Updated 3/21/2023