This article provides a detailed description of all the features and options associated with Reveal's Dashboard.
---
---
The Dashboard is the first screen that opens when a project is selected.
The Dashboard is the control center of Reveal 11: project data, visualizations, filters, search and analytical tools are all available on this screen. Users can organize, select, search and manage documents here. The following diagram provides an overview of the screen layout along with a list of functions that can be performed.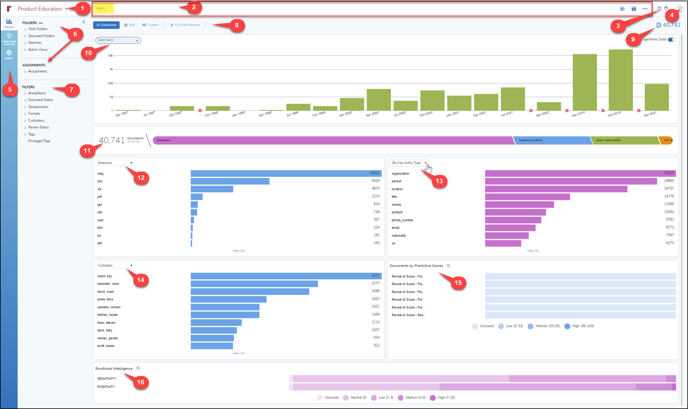 Home Button and Project Selection – Clicking the logo returns to the Project Hub, or use the drop-down menu to search for and select a different project.
Search Box – Enter concept searches, review search history, save the current search, or build or refine advanced searches.
Help and Support - Links to the Reveal 11 Knowledgebase, and to Reveal Support.
User Menu - User Logout and Settings menu.
Context Selection – Select between Review, Supervised Learning and Admin as permitted by your user account.
Folders Panel – Displays work folders created to organize documents within the project, Assignments folders and management, All Documents (of datasets loaded) and Admin Views (of all Assignments, Documents, Imports and Work Folders); the latter two are visible if permitted by the User's defined role. Folders can be refreshed by clicking Refresh in the options [...] menu next to the FOLDERS heading.
Filters Panel – Displays a set of filters, while may include such elements as:

Annotations - Documents containing any Redactions, Sticky Notes, Freehand, Highlights, Text Annotations, or any annotations at all.
Document Status - Filter by the presence of relationship categories or attributes, some of which are shown at the left of the Grid as icons.

Has Alerts
Has Children
Has Custodians
Has Email Threads
Has Extension
Has Family Members
Has Locks
Has Parent
Has Tags

Deduplication – Exact or Near Duplicate, also controlled by the Candy Bar.
Formats – Types of documents found in the dataset.
Custodians – Persons or entities from whom documents have been collected in discovery.
Review Status – For any tag profile associated with the user, shows the documents Reviewed and Not Reviewed.
Tags – User-coded and AI-coded documents (e.g., for Responsiveness, Issues, Confidentiality).

View Selection Bar – Select the preferred view of the project data (see details below):

Dashboard – The control center currently under discussion.
Grid – The table of currently-selected documents and their metadata.
Clusters – Brainspace concept visualization and tools.
AI-Driven Batches – Technically not a visualization, but a way to quickly generate batches based upon selected AI models.

Document Count – Number of documents selected in the current view.
Timeline – An interactive chronology graph for the current dataset, displays:


Dropdown menu provides options for viewing the Timeline chart using any date value contained in document metadata.

Clickable graph bars for viewing the Timeline chart by selected period which may begin as year, month/year, week, day, hour, or minute, depending on the chronology of the dataset. Here is a drill down for October 2001, featuring a Results Pane (see Item 14 below) added to the right of the screen displaying document details for the search.

Switch the Timeline chart from logarithmic scale (default for easier relative display) to linear scale.

Identify missing documents in the dataset.

Candy Bar – Graphic display of Originals, Near Duplicates, Exact Duplicates and documents Not Analyzed (because encrypted, lacking text or containing excessive text) in the current view. A user may select Originals to examine only that subset of documents.

Document Types – Selectable graphic bar chart of most common document formats found in the current view. Other metadata may be selected here.

Entities - An entity is an extracted piece of data identified by proper name. Entities are an efficient method for searching (filtering) for specific people, places or things. Select an entity type to display and select for filtering:


Brs Has Entity Type - a top-level breakout of where entities exist in the current document set. (Default)
Entity Phone Number
Entity Personal Id Num
Entity Email
Entity Url
Entity Location
Entity Religion
Entity Money
Entity Person
Entity Title
Entity Product
Entity Organization
Entity Nationality
Entity Credit Card Num

Custodians

– Selectable chart listing the top ten Custodians in the current view and the number of documents provided by each.

Documents by Predictive Scores (Tag Scores) - An assessment of classifier tag relevance groupings following Supervised Learning, where tags are used to classify documents for AI model scoring and prediction. Scores are grouped in the key below the chart, from Unscored to Low (0-32), Medium (33-65) and High (66-100).
Emotional Intelligence - this graph sets out shaded bars of Negativity and Positivity for the currently retrieved document set. The shadings, which may be selected with a click to serve as a filter, represent for each of Negativity and Positivity scoring:

Unscored (palest) - documents such as images which offer no text for analysis and scoring.
Neutral (0) - documents which are neither positive nor negative, such as numerical spreadsheets or programming code or bland correspondence.
Low (1 - 3) - documents scored for mild negativity or positivity.
Medium (4 - 6) - documents scored for moderate negativity or positivity.
High (7 - 10) - documents scored for high negativity or positivity.

Clicking on any section will add a pill to the search box to serve as a filter, retrieving only documents in the current set scored within the selected range.

Results Pane - The Results Pane opens at the right of the Dashboard display when there is a search or filter active. It presents the following information:


Document count - result of current search or filter.
Hide Results Pane
Update search results, such as adding a tag or adding to a work folder, to all search results.
Sort by - metadata field of choice; default is Search Score.
Document card and label - Card contains a label for Original, Duplicate or Near Duplicate, its Begdoc (document control number), the subject line or title if any, a brief snippet of text, and in the lower left shows how many threaded documents or tags are currently associated with this document.
Attachments - indicator with number of attachment for this document.
Cluster wheel locator - opens the Cluster Wheel visualization to show the document's cluster location.
Last Updated 11/14/2022